SPOTLIGHT: 2013 BEST NEWCOMER NOMINEE IN ASSOCIATION WITH HTC: Etta Bond
22 year old Etta Bond is making a lot of noise on the music scene! 
Etta grew up in Cambridge, surrounded by music from an early age and influenced by her brother, a DJ and her sister, a dancer/singer. Throughout her childhood Etta Bond attended some of the best performing arts schools, which included Body Work Theatre School and The Institute of Contemporary Music Performance. At the age of 14, Etta marked her arrival as a serious singer/songwriter with the personal and heart-breaking song 'Wipe My Eyes', which gave a vivid account of her turbulent relationship with her estranged father. 
Would you believe that Myspace would be the place where Etta got her first big break!  
After a fluke MySpace encounter, Etta Bond met MOBO Award winner and producer extraordinaire Labrinth.  Within hours of meeting the duo cemented a musical relationship that would change Etta's life forever and play a crucial role in her music career. Etta Bond is the first artist to be signed to Labrinth's Odd Child production label. Since her meeting with Labrinth and her hard work in the studio, Etta's work has been featured on Americas Next Top Model, appeared on the movie soundtrack 4,3,2,1 and she continues to work alongside Labrinth.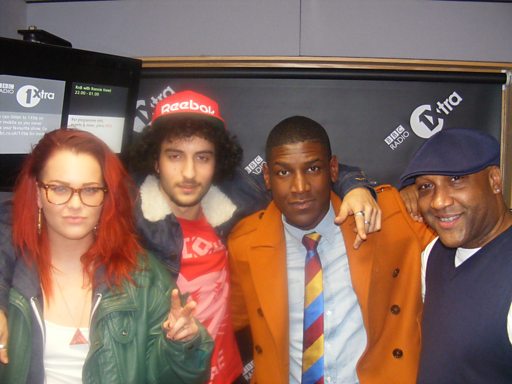 Despite her gothic-chic quirky image, Etta Bond has the powerhouse vocals which could give any soul or gospel singer a run for their money. Etta has caught the attention of her music industry peers as she has delivered killer feature vocals for the likes of Wretch 32, Plan B, Devlin, Professor Green and Labrinth. Etta seems to be at her best when playing off a strong male character – her feature on veteran rappers Devlin record 'Love Cards' showed this off nicely. Etta continues to make her mark in the music industry with outstanding EP's with fellow Odd Child signee Raf Riley.
Etta and Raf have been conjuring up bitter/sweet sounds for a good while now with the EP's 'Emergency Room' (2012) and 'Meds' (2013). What I love most about the collaborative work between Raf Riley and Etta Bond is their ability to put their own spin on current underground trends.  On their collaborative projects they never compromise each other's vision and rather complement each other perfectly. 
From the captivating artwork, impressive production and crazy visuals portrayed in their music videos, Raf and Etta are a genius double act who unleash something of quality and fun in their music. The duo has developed a soulful sound with a grimey edge and unique appeal.  In 2012, the duo opened for Azealia Banks on her Mermaid Tour, supported Labrinth on his Electronic Earth Tour and nominated to be 'Hot for 2012' by BBC 1xtra. 
Inspired by the likes of Jill Scott, Etta James, Billie Holiday and Amy Winehouse, you can hear their influence pour through in Etta's music, which is pretty incredible. Etta has a superb finesse at writing songs with sincere honesty and vulnerability. Etta's powerful voice and song writing skills will warm even the coldest of hearts. Etta is currently focused on completing her debut album and collaborating with many different artists in her field. She will continue to work alongside Labrinth, but for now is thriving as being one half of ExR alongside Raf Riley. 
Etta Bond is a breath of fresh air to the music scene.  Her powerhouse vocals and quirky edge definitely makes her a rarity in the industry and a home-grown talent to get excited about. 
Etta Bond has been nominated in the best newcomer category.  If you wish to show Etta your support you can cast vote for Etta Bond 
here.
For your chance to see Etta Bond at the MOBO Awards purchase your ticket
 here.
 Confirmed acts to perform include chart toppers Rudimental, Iggy Azalea and Tinie Tempah.