Nicki Minaj Shrugs Off 'Anaconda' Cover Art Criticism, Calls Out Racial Double Standard With Sports Illustrated Photo
Nicki Minaj has decided to lash back at critics going off on her for releasing a steamy cover art for her new "Anaconda" single. The scandalous shot made the Internet go crazy and even became a trending topic with various Tweets and Instagram comments in response to it. Many believe that, considering her huge success, she shouldn't have gone down this route at this point in her career. 
A commenter on Facebook made an interesting observation:
An editor over at
The Guardian
also asked if the photo was too racy and if it undermined her image as powerful and independent:
The question is whether this is a step too far, even for an artist who has always openly courted controversy. [...] Minaj doesn't shy from ruffling her audience's feathers. But does it undermine her image as a powerful, independently minded artist to splay her almost-bare butt cheeks in a promotional image? Or is the joke on the voyeurs who only ogle at her voluptuous body and miss the message of her lyrics?
In response to the backlash, Nicki took to Twitter today to defend the image and made sure to let her fans know that she doesn't care what anyone thinks.
"Putting out some more #thotShit tmrw for the fuq of it. LMFAOOOOO. Thots out here showin puss lips but u mad at da kid" she wrote, followed by a series of crying emojis. "LMFAOOOOO."
That wasn't all Nicki had to say about the backlash though. She has recently been vocal about the racial double standards she has witnessed in the industry, and continued those sentiments in a series of Instagram posts that showed Sports Illustrated models in booty-revealing bikinis. She captioned "acceptable" next to racy images of Kate Upton and Nina Agdal posing in swimsuits and then reposted her "Anaconda" cover art with "unacceptable" in the caption.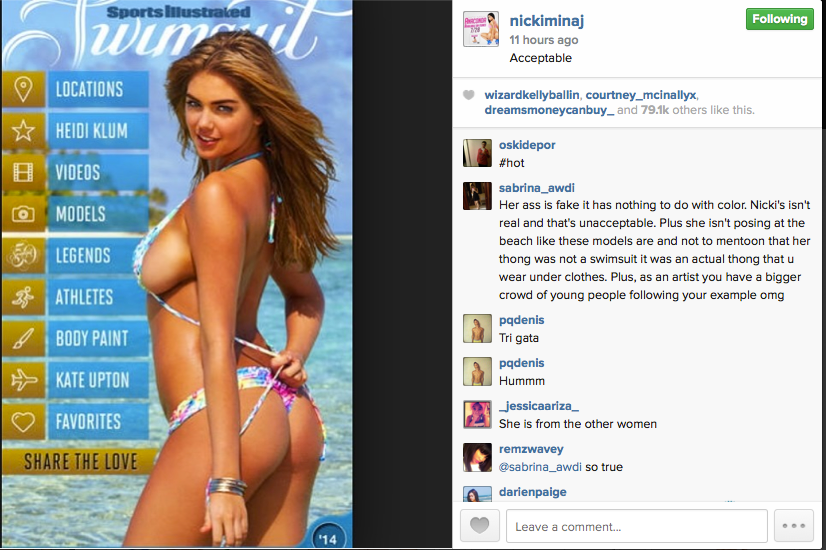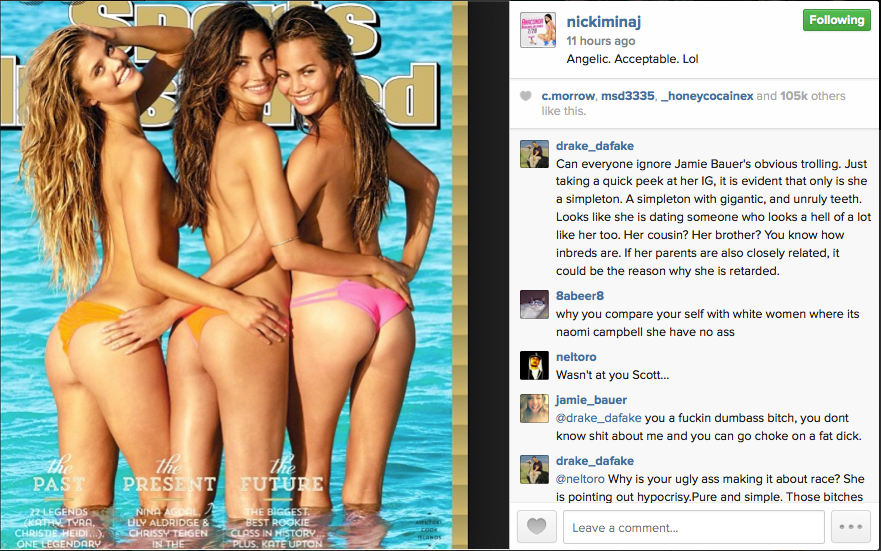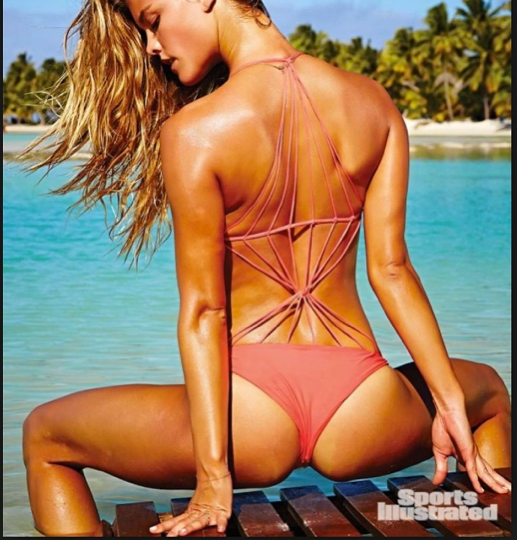 The difference that we see here, though, is that those women are PROFESSIONAL models. Their job is to pose in bikinis for a swimsuit issue of a men's magazine. There are also a few black models for this very magazine who do the same types of poses as the models she posted, and they are also not criticised. But she did not include them.
These models are not doing this pose and asking to be respected as rappers or something that has nothing to do with the magazine. Nicki has also stated in numerous interviews that she wanted people to focus on her talent and not her body........ so I can see how it looks like she's taken a few steps back with this cover, however, she's also in a space where she feels as though she's proven herself and she can take this step in her career. 
Do you agree with Nicki? Is there a double standard when it comes to what race woman have to be for their revealing photos to be acceptable?  If another artist such as Katy Perry or Lady Gaga were to do the same pose, would it have received the same backlash? Tweet us your thoughts @MOBOAwards